EFFECTIVE UTILITY MANAGMENT CERTIFICATE
What our students are saying . . .
Basic Information
American Water College and California State University, Fresno have collaborated on this program in order to accomplish the following goals:
Provide Industry Specific Management Training
Provide Affordable Leadership Training
Provide a Blended-Learning Program
Through the combination of online learning and classroom training events, you will gain the skills and knowledge you need to become an effective leader in your organization.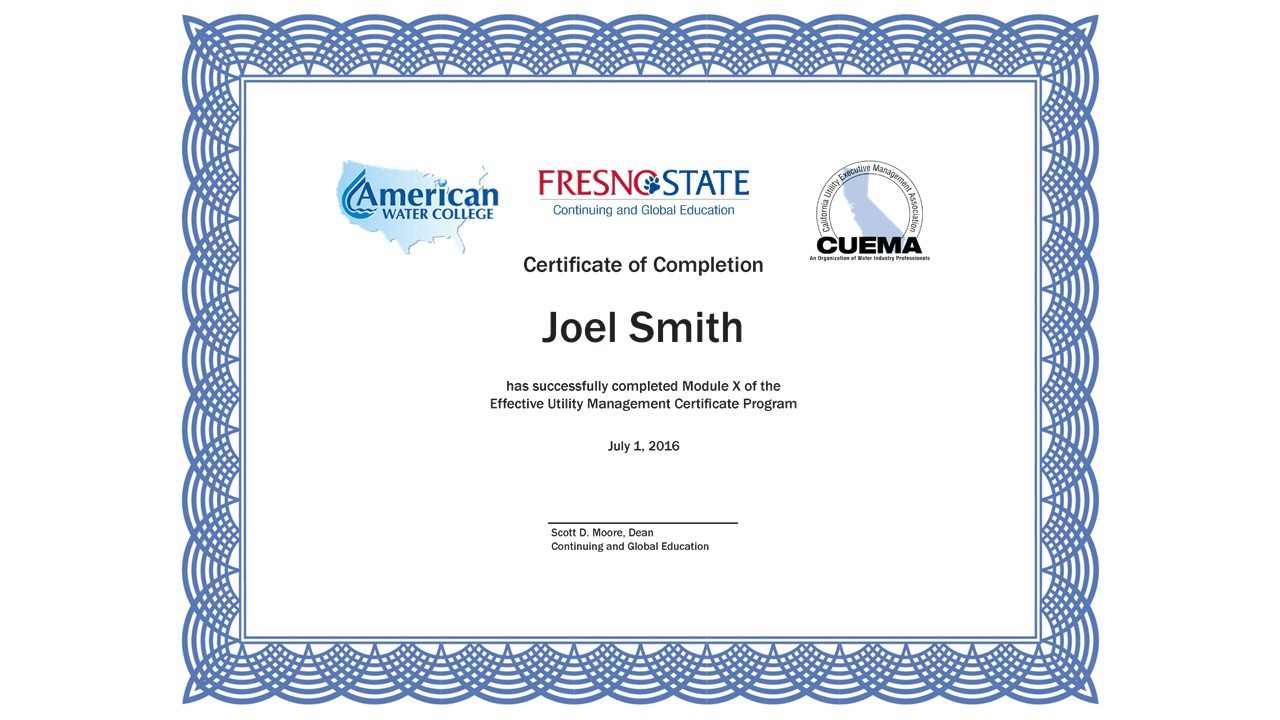 Who it's for
T
his Effective Utility Management Certificate Program is designed for:
–The industry professional interested in becoming a leader in their organization
–The supervisor looking to gain new skills and knowledge in the art of leading
–The manager ready to take their management to the next level
University Certification
Students can enroll in the California State University, Fresno Division of Continuing and Global Education and receive a certificate for each module.  Additionally, each module will be added to the student's Professional Development transcript.  Upon completion of all six modules, the student will receive the Effective Utility Management certificate.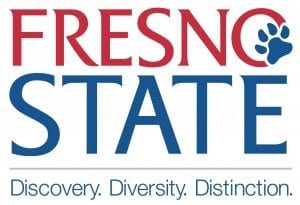 Benefits
This Effective Utility Management Certificate Program will:
Give you industry specific knowledge in the areas of leadership and management.
Distinguish you from other job applicants by showing a commitment to learning and improving your management skills.
Allow you to obtain optional certification from California State University, Fresno.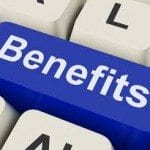 Effective Utility Management 1
Module 1 is for anyone in a leadership position at a utility. This course will teach you how to put management and leadership skills to work for you and your organization.
Topics Covered:
Leadership Development
Performance Management
Leading Change and Transition
Resolving Conflict
Leading High-Performance Teams
Effective Utility Management 2
Module 2 consists of a series of skill-building sessions, specifically designed to help you become a more effective manager and leader in today's changing business climate.
Topics Covered:
Leadership and Influence
Critical Thinking Skills
Creative Problem Solving
Critical Decision Making
Coaching and Mentoring
Effective Utility Management 3
Module 3 is designed to help the utility managers continue expanding their leadership capacity as well as that of their staff.
Topics Covered:
Five Levels of Leadership
Knowledge Management
Workforce Development
Succession Planning
Emotional Intelligence
Effective Utility Management 4
Today, the water and wastewater industry is more complex than ever before. As our industry changes, there is a strong need for effective leadership.
Topics Covered:
The Regulatory Process
Utility Management Competencies
Utility Strategic Planning Basics
The Continuous Improvement Process
Utility Accounting
Utility Money Management
The Budgeting Process
Setting Utility Rates
Effective Utility Management 5
This second module covers advanced topics relating to the effective management of modern water and wastewater utilities.
Topics Covered:
Operations Management
Maintenance Management
Privatization
Capital Improvement Management
Construction Design Process Management
Construction Process Management
Leveraging Information Technology
Effective Utility Management 6
This third module on effective utility management shows you how to use the Balanced Scorecard approach to utility management.
Topics Covered:
Introduction: A Balanced Scorecard
Training and Communication Planning
Developing Your Mission, Values and Vision
Mapping Out a Strategy
Developing Performance Measures
Creating Organizational Alignment
Tracking and Reporting Results
Sustaining Strategic Success
Enrollment Information:
Enrollment options:
Select the course above and self-enroll
Call our office at 661-874-1655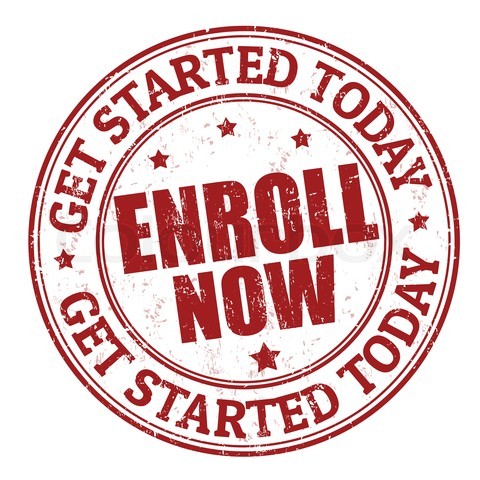 Program Costs
Because affordability is important to us, each class costs only $499.
You may enroll in each class individually, and spread out the cost over the entire course of the program.
Everything you will need to complete the course, including all books and materials, is covered by your enrollment.